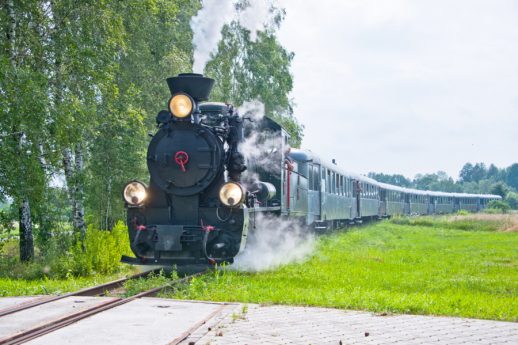 In the season running from 30 April 2022, Narrow Gauge Railway Museum in Sochaczew organizes rides by narrow-gauge RETRO train for tourists. The train is run by pre-war steam locomotive Px29-1704 or diesel locomotive Lxd2-342. The beautiful and exciting train route is 18 km long. Looking through the train's windows, you can see, among other things, towers of fortified church in Brochów where Fryderyk Chopin was baptized. The final destination of the train is Wilcze Tułowskie, a village through which you can enter the Kampinos National Park.
The train is adapted for the transport of baby strollers. The train is not adapted for the transport of persons with physical disabilities (persons in wheelchairs). The coach's entrance is 66-68 cm width (depending on the coach), and the vestibule entrance is 60 cm width.
You can transport your dog for free – additional fee is not required (mandatory valid vaccination book, muzzle and leash).
Passengers are asked to wear face masks during the ride. The retro train is disinfected before, during and after the ride and the disinfectant is available in the train all the time.
Train tickets are sold ONLY ONLINE and before the train's departure, if the tickets are still available.
As of 4 May 2022, you can rent the retro train for a private ride. Do not hesitate to contact us: tel. 46 862 59 75 or e-mail: rezerwacja@stacjamuzeum.pl
●●●●●●●●●●●●●●●●●●●●●●●●●●●●●●●●●●●●●●●●●●●●●●●●●●●●●●●●●●●●●●●●●●●
SPECIAL TICKETS: RETRO TRAIN + ŚMIECHOMINEK FAMILY AMUSEMENT PARK
New tickets for RETRO train ride combined with a visit to the Śmiechominek family amusement park have been introduced. You can choose the visit to the Śmiechominek family amusement park instead of guided walk in the Kampinos Forest and picnic with bonfire in Osada Puszczańska. Passengers are taken by a bus (Wilcze Tułowskie -Śmiechomiek-Tułowice) for about 2.5 hours.
What is Śmiechominek?
ŚMIECHOMINEK (Secyminek 3) was made out of love for people and animals. We invite you to visit our Arcadia where Matylda (camel) gives kisses, Maja, Gucio and Filipek (alpacas) look into your eyes and a kangaroo family waits for a clover. Feeding them brings a great pleasure. This beautiful place is located between the Vistula River and the Kampinos Forest. Vast and fenced area allows you to relax and have a great time. Playground with wooden equivalents of our animals, Aladdin inflatable castle and carousel will provide your children with unforgettable experience. Heart-shaped pond can touch your soul, while forest with its smell can take you into another world. And our pizza from wood fired oven is the icing on the cake. Feel invited.
RETRO REGULAR ticket with "Śmiechominek" option – PLN 78
RETRO REDUCED ticket with "Śmiechominek" option – PLN 71
●●●●●●●●●●●●●●●●●●●●●●●●●●●●●●●●●●●●●●●●●●●●●●●●●●●●●●●●●●●●●●●●●●●
NOW ON SALE! NEW SPECIAL TICKETS: A RIDE IN A TRAINSET LED BY THE MBd1 SERIES MOTOR CAR COMBINED WITH  PHOTOSTOPS.
We would like to invite you to take a ride on MOTOR CARS (composed of: motor car MBd1-130 + passenger car Bxhpi + motor car MBd1-126). This is a new tourist product introduced from 2022 for individual tourists combined with PHOTOSTOPS.
In 2022 the narrow gauge MOTOR CARS ride will take place on the following dates:
MAY: 26.05 (Thursday)
JUNE: 23.06 (Thursday)
JULY: 28.07 (Thursday)
AUGUST: 25.08 (Thursday)
SEPTEMBER: 22.09 (Thursday)
PROGRAMME
9:15-10:15 – guided tour of the museum
10:30 – departure of the train from the museum
10:50-11:10 – Bridge on the River Utrata (photostop I)
11:30-11:40 – Plecewice (photostop II)
12:00-12:10 – Janówek (photostop III)
12:30-13:00 – Wilcze Tułowska (guided walk)
13:05-13:25 – The Bridge on the Łasice Canal (photostop IV)
13:27-14:15 – Tułowice (a break in the glade)
14:28-14:38 -Brochów (photostop V)
14:50-15:10 – Wólka Smolana (photostop VI)
15:19-15:29 – Zwierzyniec (photostop VII)
15:37-15:47 – Chodaków (photostop VIII)
16:07-16:17 – Sochaczew Miasto (photostop IX)
16:25 – the return to the museum
● NORMAL ticket   – PLN 60
● REDUCED ticket – PLN 50
●●●●●●●●●●●●●●●●●●●●●●●●●●●●●●●●●●●●●●●●●●●●●●●●●●●●●●●●●●●●●●●●●●●